Welcome to Generation Alive, a vibrant movement of passionate individuals steadfastly committed to transforming our world through compassion and service. Our collective mission is not merely an abstract concept – it pulses through our veins, defining who we are, and driving our every action.
And that mission is this: to activate youth to lead with compassion. 
Generation Alive is a movement of youth responding to needs around them wherever, whenever, however. 
JJ Vancil
Executive Director
JJ's Bio
JJ Vancil, our Executive Director, has been an integral part of the Spokane community since 2001 and brings extensive experience from his involvement in youth-serving organizations. His unwavering commitment to our mission, team building, and empowering staff to achieve their fullest potential sets him apart. JJ's true passion lies in envisioning a bright future for our organization. Married to Katy since 2005, he takes great pride in raising his two wonderful children, Owen and Nora. When not working, JJ finds solace in quality time with his family, playing tennis, exploring Spokane's vibrant food scene, diving into books, and maintaining an active lifestyle. Guided by Wayne Gretzky's wisdom, "Skate to where the puck is going to be, not where it has been," JJ embodies a forward-thinking mindset. JJ's steadfast dedication and visionary leadership propel our organization's success.
A fun fact about JJ is at heart, he is a tech nerd and, in an alternate universe, he likes to think he was on the ground floor building a company like Apple.
Audrey Dominguez McFadden
Associate Executive Director
Audrey's Bio
Originally from Beeville, a small town in South Texas, Audrey spent 12 years in San Antonio before relocating to Spokane in the summer of 2021.  As our Associate Executive Director, Audrey enjoys leading our team, strengthening staff relationships, managing projects, and overseeing our strategic execution. Prior to joining our organization, Audrey worked in youth focused non-profits for eight years and taught elementary school for two years. When she's not working, Audrey can be found spending time with loved ones, cooking with her husband, tending to her plants, traveling, and hosting gatherings.  One of her favorite quotes is from Brené Brown: "Vulnerability is not winning or losing; it's having the courage to show up and be seen when we have no control over the outcome. Vulnerability is not weakness; it's our greatest measure of courage." 
A fun fact about Audrey is that she started dating her now-husband Kurtis during the pandemic shutdown while living in different states and got engaged just six months later.
Darrin Duty
Program Director
Darrin's Bio
Darrin Duy is our dedicated Program Director with over 30 years of experience in youth development. He oversees all of GA's in-person youth programs, and enjoys seeing young people see the potential in themselves. With a background as Spokane Area Campus Life Director, Youth Pastor, and 12 years as GA's Program Director, Darrin brings extensive expertise and unwavering dedication to his role. He finds joy in guiding youth on their journey of self-discovery and growth. Outside of work, Darrin enjoys golfing, fishing, hiking, mountain biking, and photography. His favorite quote, "It's better to burn out than to fade away," reflects his drive to make a lasting impact. As Programs Director, Darrin's experience, dedication, and passion contribute to the success of our programs. 
A fun fact about Darrin is he is a professional photographer and hot sauce enthusiast, once eating a pepper so hot that his eyes literally swelled shut.
Chris Sloan
Community Engagement Director
Sloan's Bio
Chris, better known as "Sloan", brings to Generation Alive expertise in both youth ministry and non-profit philanthropy. After graduating from Eastern Washington University with a degree in marketing, Sloan served as youth pastor at Timberview Church for 18 years, as well as denominational youth director. In 2013 he co-founded At The Core, a non-profit organization focused on empowering businesses, churches, and civic organizations to adopt local elementary, middle, and high schools to provide weekend meals for students facing hunger. At The Core and Second Harvest combined their efforts in the fall of 2013 and formalized the Bite2Go program, with Sloan at the lead. Today, over 5,000 students receive Bite2Go every weekend in every school in Spokane County. Sloan and his wife Brenna were married in 1997 and have three children Ella, Aidan, and Norah. Sloan loves everything football and has been a high school football coach for 25 years. He also thoroughly enjoys almost any outdoor adventure: fly fishing, hiking, snow shoeing, camping. GA is the perfect confluence of his passion and calling.
Kyle "KJ" Johnson
Virtual Program Director
KJ's Bio
Kyle "KJ" Johnson, the Creative Director of Generation Alive, is a multi-talented creative force born and raised in Spokane, with a deep passion for dreaming up ways to help kids and families PLAY (mobilize with safety). His expertise lies in constructing virtual platforms that facilitate the creation of meaningful memories, enabling individuals and families to disconnect from technology and rediscover the beauty within themselves, others and the world around them. Furthermore, "KJ" finds immense joy as the host of The Kid Next Door Podcast, where he gains invaluable insights from inspiring kids. With a diverse background encompassing roles such as a non-profit executive director for 14 years, owner of Ink the Story for over a decade, he is an experienced actor, screenwriter, children's book author, and poet, Kyle's creativity knows no bounds. During his downtime, you can find him relaxing in a hammock with his wife Krista and their three daughters, Addy, Avy, and Kynlee, enjoying the outdoors. Among his cherished quotes are Thich Nhat Hanh's words: "Understanding someone's suffering is the greatest gift you can give another person. Understanding is love's other name. If you don't understand, you can't love." Additionally, he lives by Walt Disney's famous mantra: "Dream it. Do it." 
Kyle "KJ" Johnson infuses our team with humor, creativity, innovation, and a deep understanding of the needs and interests of kids and their families. Embracing the enigmatic nature of life itself, he steadfastly believes in the inherent goodness of humanity, striving to illuminate the shimmering fragments of positivity amidst a world hypnotized on the negative. 
A fun fact about "KJ" is his close collaborations with Mark Wahlberg (his doppelgänger), Macklemore and Ryan Lewis and shared a room with Mickey Mouse in the Disney college program at WALT DISNEY WORLD!
Karen Roberts
Executive Administrator
Karen's Bio
Karen Roberts serves as our dedicated Executive Administrator, bringing over 30 years of invaluable experience in the nonprofit sector. Married to Scott for three decades, Karen is a proud mother of three daughters and finds immense joy in her two grandchildren.As our Executive Administrator, Karen loves the challenge of keeping everything running smoothly and organized. The positive energy and passion of the GA staff inspire her every day, and the incredible stories from our students give her hope for a brighter future. Beyond work, Karen finds solace in nature, whether tending to her yard, spending quality time with her family and dogs on the front porch, or bird watching. Additionally, she enjoys journaling, cooking, and creating treasured memories with her loved ones. Reflecting her compassion, Karen embraces a favorite Sanskrit prayer: "May all beings everywhere be happy and free, and may the thoughts, words, and actions of my own life contribute to the wellbeing of all." As our Executive Administrator, Karen Roberts embodies unwavering dedication and organization, making significant contributions to the success of our organization.
A fun fact about Karen is she proudly wears a tattoo on her arm, inspired by a painting crafted by her daughter at the age of 14.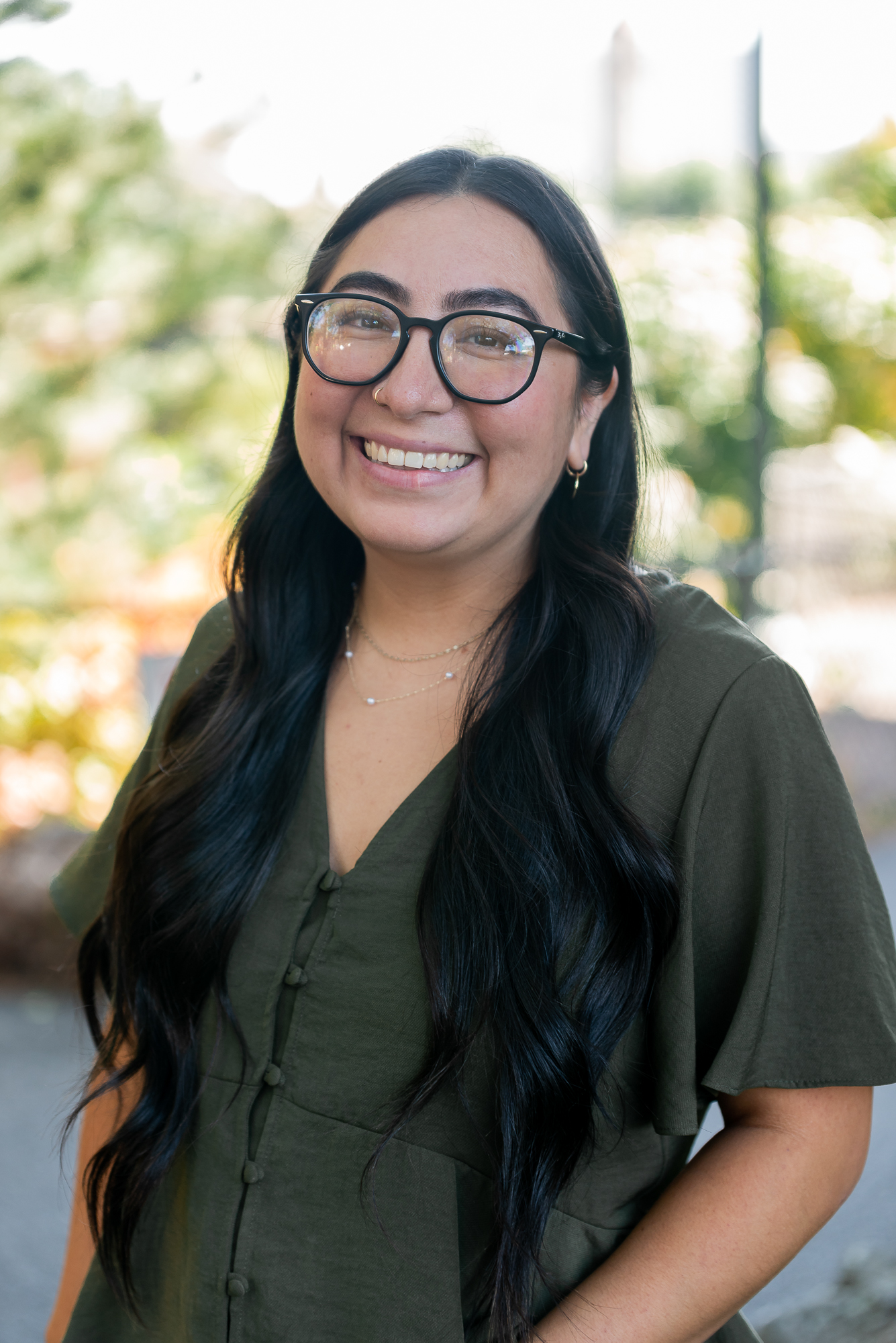 Rebecca Macias Waterford
Marketing Coordinator
Rebecca's Bio
Originally from sunny San Diego, Rebecca and her husband, Jamal Waterford, embarked on an exciting journey to the Pacific Northwest eight years ago, leaving behind a close-knit family to build a life together. 
In her role, Rebecca is passionate about spreading GA's mission through social channels and inspiring others to take action. With several years of industry experience, she crafts sustainable and authentic marketing plans that tell compelling stories.
Off-duty, Rebecca is an "introverted extrovert" who enjoys both adventure-filled weekends and cozy couch hangs, fostering meaningful conversations and savoring delicious meals. Her favorite quote, "Clear is kind" by Brene Brown, reflects her commitment to transparent communication.
A fun fact about Rebecca: she's a spice and citrus enthusiast who loves a good road trip. With her zest for life and dedication, Rebecca is a valuable member of our team, ready to make a positive impact.
José Ceniceros
Logistics Coordinator
José's Bio
With a deep commitment to serving the community, José has been a resident of Spokane for 19 years. As a dedicated family man, José is married with three children. In his role as Logistics Coordinator, he is involved in every school, witnessing the incredible work accomplished by the youth in our community, which brings him immense joy. When not working, José finds fulfillment in spending quality time with his family, serving his church, and embracing the outdoors. José draws inspiration from the words of José Revueltas: "Todo acto de creación, es un acto de amor." José Ceniceros' dedication, family values, and commitment to the community make him an invaluable asset as our Logistics Coordinator, supporting the smooth operations and success of our organization.
A fun fact about José is he finds joy in his love for baking, as it not only brings him happiness but also allows him to share his delicious creations with others.
Rachelle Goodbrake
Program Coordinator
Rachelle's Bio
Rachelle Goodbrake is our dedicated Program Coordinator, bringing extensive experience and a deep passion for empowering youth. Originally from Hilo, Hawaii, she has made Spokane her home since 2015. As a proud mother and Program Coordinator, Rachelle finds fulfillment in working directly with youth, guiding them on their path to success. Her background in addressing food insecurity for youth and advocating against Human Trafficking adds valuable expertise to her role. During her leisure time, Rachelle cherishes moments spent with her daughter, exploring local parks, swimming, and pursuing her love for photography. Her favorite quote, "May we be brave enough for it. May it be ready for us," inspires her to embrace challenges with courage. With a multicultural background and experiences living in various countries, Rachelle enriches our team and the Spokane community.  We greatly value Rachelle Goodbrake's commitment and passion for empowering youth, making her an invaluable asset as our Program Coordinator.
A fun fact about Rachelle is she was born in Washington, grew up in Hawaii, lived in Germany for 3 months, lived in New Zealand for 6 months, moved to Spokane in 2015 to start a family and has been here ever since.
Kelley Ferguson – Chair
Chief Information Officer
Numerica Credit Union
Jonathan Dietzen – Vice Chair
Managing Principal, BizOps, Outsourcing
CliftonLarsonAllen
Mark Calkins – Treasurer
Investment Adviser
Richards, Merrill & Peterson
Mary Silkworth
Retired – Enterprise Systems
Avista
Carla LaFayette
National Program Director
Urban Strategies 
Scott Chaffin
Vice President
Travis Pattern & Foundry Inc.
Chris Patrick
Chief Executive Officer
Inland Imaging
Joshua Loera
President
Kingdom Builders Group
Sather Gowdy
Public Defender
Spokane County
Jeremy Affeldt – Founding Board Member
Owner
Free Roam Brewing Company
Is our mission your mission?
Working at GA is not just a job, it's a lifestyle. We strive to be the best at what we do, focused on creating a collaborative culture where servant leadership is everything. Join the team.